Washboy Centralized Machine CWS 200.15.1
Washboy Centralized high pressure cleaners are built out of experience , made by professionals for industrial use. Ideal unit for industrial applications, easy to use, low maintenance and helps cleaning faster.
You tell us how many guns you want to operate at the same time, we tailor the right Washboy system for you, to suit your cleaning needs. Washboy CWS 200.15.1 is a stationery unit, can be installed into an equipment room. The system can supply as many drop station required at different areas of cleaning, plug in and plug out high pressure hose to different station in the plant and the user will have no contact with the machine and the machine cuts off in 30 seconds when not in use and starts again by pressing the high pressure gun.
Saves water, electricity, low maintenance and reduce the cleaning time.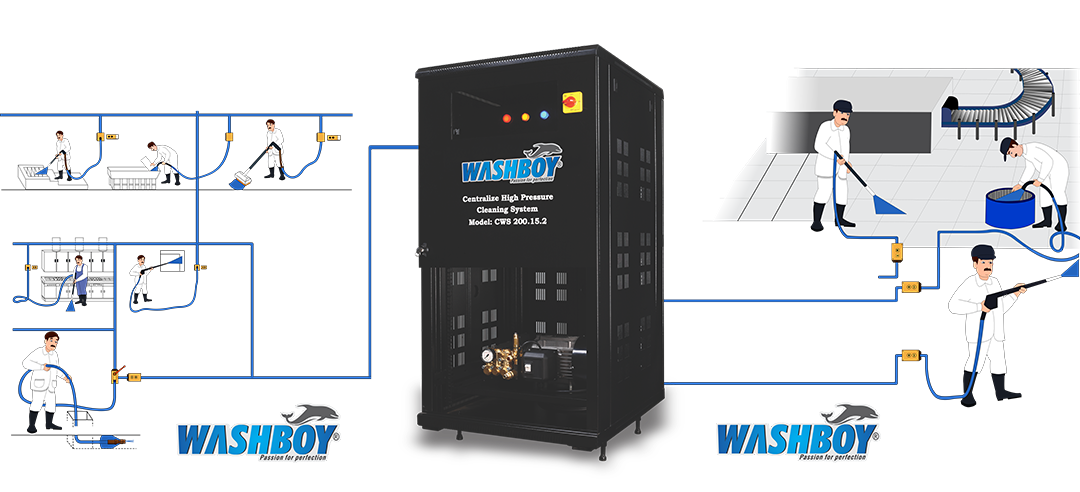 Model
Pressure
Volume
Connection
Power
Inlet water Temp.
Time Delay stop
 
Bar
PSI
LPH
 
 
 
 
CWS 200.15
200
2900
900 per machine
3Ph, 415V
6 Kw per machine
50°C
Yes
Model

Pressure

Volume

Connection

 

Bar

PSI

LPH

 

CWS 200.15.1

200

2900

900 per machine

3Ph, 415V

Power

Inlet water Temp.

Time Delay stop

 

 

 

 

 

6 Kw per machine

50°C

Yes.